You've put in all the work to make your Halloween cupcakes the most adorable cupcakes for the party or office. Take that next step and serve your cupcakes in style on the perfect Halloween cupcake display for the job.
Create a beautiful Halloween party table with your Halloween cupcakes on one of these fun Halloween cupcake stands. Your party will be the talk of the break room…or the class room.
A Halloween cupcake display like the ones you'll see here are perfect for office parties, kids' parties, festivals, bazaars and family gatherings at home.
Running short on time to hunt for the perfect Halloween cupcake stand? Kick your shoes off and relax. I've rounded up a really cute assortment of Halloween cupcake displays to save you time.
Featured Image: Creepy Cupcakes by Kathryn Cartwright on Flickr, Creative Commons 2.0
Wilton Halloween Party Dessert Display Kit
Talk about a party in a box! Wilton comes through with an adorable party dessert set.
The kit Includes a treat stand, 10-inch cake board, 25 baking cups, 12 icing decorations, 20 treat bags with ties and 1 cake banner
All you need to do is bake up some yummy Halloween goodies and you're in business.
The 3 tier stand features ghosts, spiderwebs and a pumpkin and holds up to 24 standard cupcakes. Assembly instructions are included. The
cake board features an orange and black design and holds an 8 or 9-inch cake.
Cupcake baking cups have a festive orange and black stripe. Decorate cakes or cupcakes with the ghost, skull and jack-o'-lantern icing decorations. Pack up party favors or treats with the ghostly printed treat bags.
Now you're ready to create a perfectly coordinated Halloween party goodie display!
Show Off Your Cupcakes With Halloween Cupcake Displays
Mix and match vibrant colored cupcake stands to create a perfectly petrifying display for your Halloween cupcakes. The cupcake stand has a glossy finish and they're made of cardboard for easy disposal. With these cupcake stands, your cupcakes will add a pop of color to your party.
Reusable cupcake stands like these should be a staple in your party supplies and decorations stock. You can use them for birthday parties, baby showers, bridal showers and more.
Halloween Ghost Cupcake Stand
Halloween Cupcake Stand
Halloween Cupcake Stand
Halloween Cupcake Stand
Halloween Cupcake Stand
Halloween Cupcake Stand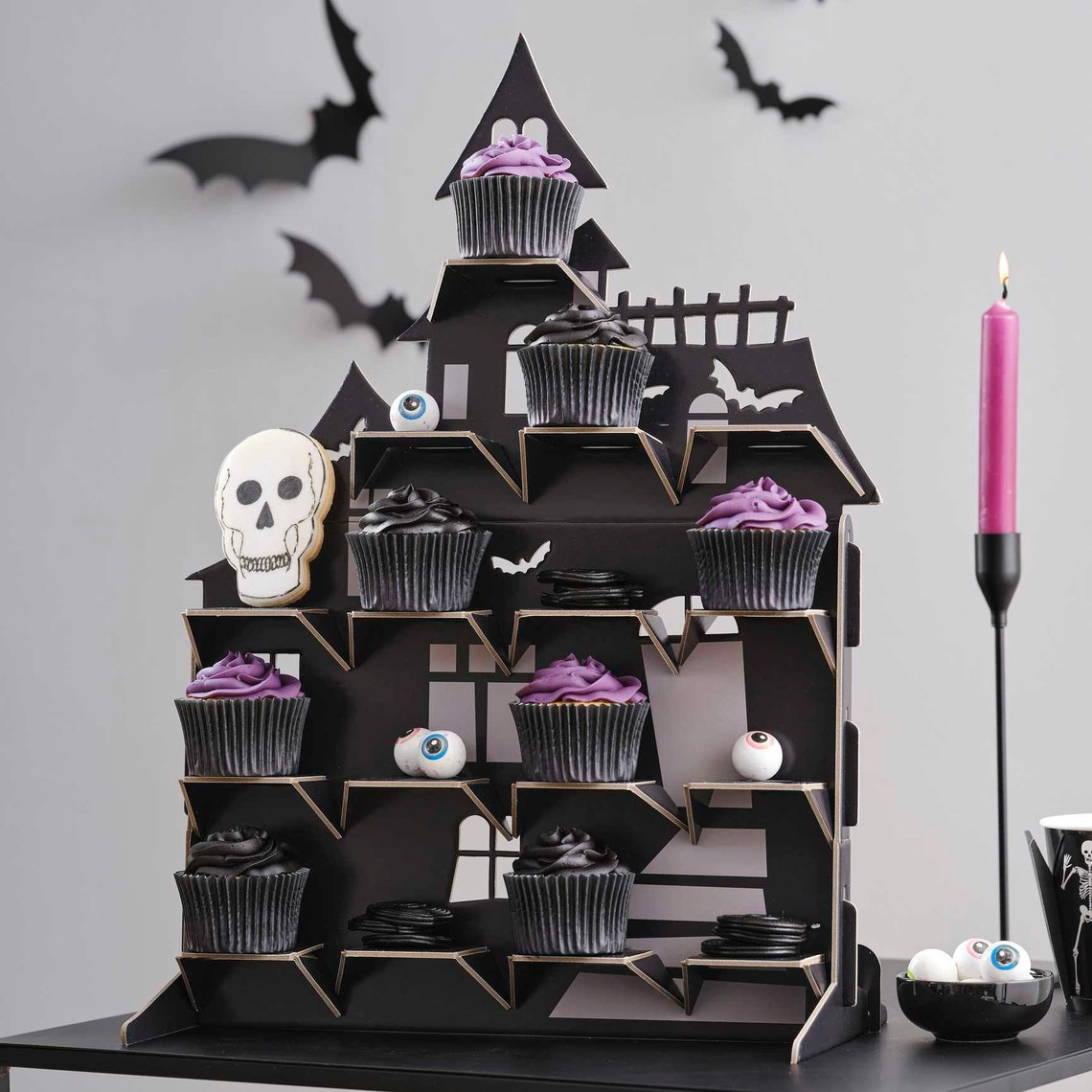 Haunted House Halloween Cake Treat Stand

Get A Cute Halloween Cupcake Display
What could be cuter than showcasing your cupcakes on this cupcake stand?
Talk about a good deal ~ it comes with a set of 48 cupcake wrappers and 40 plastic Halloween cupcake picks! Just bake up some yummy Halloween cupcakes. Then you're ready to create a sweet Halloween cupcake centerpiece!
Halloween Cupcake Stand Set with 40 Plastic Halloween Cake Topper Picks and 48 Halloween Cupcake Wrappers
Unique Way To Display Halloween Cupcakes
Lighted cupcake stands are fabulous and all the rage. Your Halloween cupcakes would look fantastic on one of these cupcake stands. Let the lights help you create that spooky goodie table. Everyone will love it!
Do you just love these Halloween cupcake stands? I don't know which one I would pick myself! Have a wonderful party!
4 Tier Rechargeable LED Cupcake Tower for Halloween, Christmas,Wedding, Party, Baby Shower
4 Tier Acrylic Display for Pastry + LED Light String – Ideal for Weddings, Birthday
Pick Up An Adorable Halloween Cupcake Stand On eBay
Featured Images: "Halloween cupcake mosaic" by kgroovy is licensed under CC BY-SA 2.0.; "Halloween Party Cupcakes" by tawest64 is licensed under CC BY 2.0; "Halloween cupcakes" by Mina Magiska Bakverk (My Magical Pastries) is licensed under CC BY 2.0.
(Visited 11 times, 1 visits today)