Want to give some Thanksgiving party favors? Decorative table favors are a great way to accent your table AND give your guests a little gift.
It's easy and fun to give nice Thanksgiving favors when you use these nice favor boxes.
There's a favor box for every Thanksgiving party favor, too. You could use classic square boxes, cute takeout boxes, tent boxes and my favorites, gable boxes.
Where can you get these party favor boxes? At Zazzle and Etsy, that's where!
You won't find these favor boxes anywhere else. They're custom designed by wonderful artists. There are many that you can customize too!
These Thanksgiving favor boxes make your party favors and small gifts look professional.
Zazzle and Etsy have wonderful favor boxes waiting just for you. And they're super easy to assemble! Zazzle ships the boxes flat, so you can fold them right up when you get them. On Etsy, you can find printables that you can fold or ready made favor boxes.
When should you give Thanksgiving party favors? Any time you want!
Need some Thanksgiving party favor ideas to get you started? Let's Go!
Tent Style Thanksgiving Favor Boxes
These cute boxes are perfect for Jordan Almonds, candy corn or even small gifts like soaps.
They're shipped flat so you can fold them when you get them. Chances are, you can customize them too. Personalize them or add text. They come with that sweet ribbon too. At 3″w x 1.5″l x 3.25″h, won't they look adorable on your Thanksgiving table? Want to see more? Visit our shop here: Fancy Gift Wrap Shop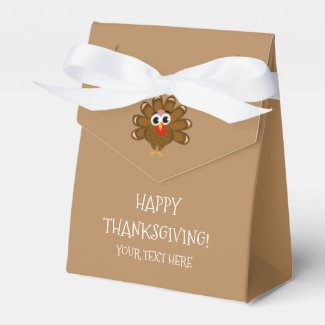 Custom Happy Thanksgiving Turkey day dinner party Favor Box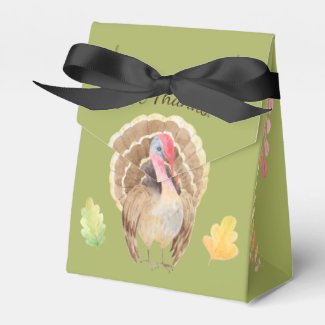 Give Thanks Favor Box

Gable Boxes Make Your Thanksgiving Favors Fun
Your guests will love these gable favor boxes even before they see what you put inside! I think these started out as food boxes long ago, but how inspired to turn them into such works of party art. Fill them with nuts, candy or cookies.
Or how about gift soaps, candles and other small gifts? You can give them out as your guests arrive for a sweet welcome. Give them out as your guests leave for a very nice send-off.
Or Maybe Takeout Favor Boxes For Your Thanksgiving Table
Now we all know the shape of these adorable takeout favor boxes, don't we? Without even seeing them! Inspired by those famous takeout boxes from our favorite Chinese restaurants, who would have thought they'd become favorite favor boxes!
Takeout favor boxes are lovely for birthday parties, baby showers and office parties. Use them for cookies or a cupcake. Put small gifts like soaps, candies, candles and more in them. Use them with or without tissue paper.
Classic Favor Boxes
The classic square favor boxes are the champions of all the gift boxes. You can get just about any gift in one. Ok, well maybe not a car, but you know what I mean.
If you get the plain white ones or the kraft ones, you can have the kids decorate them with stickers and/or markers. Wouldn't their grandparents love that?
Pillow Boxes
Pillow favor boxes are the answer for small gifts or treats at birthday parties, baby or bridal showers and weddings. Fold them up, fill them up and POOF you've got all your favors ready to go!
Thanksgiving Party Favors For Sale On eBay
(Visited 42 times, 1 visits today)