Make chocolate covered pretzel rods for a yummy-good combination of sweet and salty. They're great party favors for adults as well as the kids.
Chocolate dipped pretzel rods are really easy to make, too.  They make ideal gifts and perfect party favors, your guests will love them.
The most popular candy coatings, of course are milk, dark or white chocolate ~ but imagine caramel, peanut butter, strawberry or chocolate mint. WOW!
I've collected some easy dipped pretzel recipe ideas for you to dazzle your gift recipients with yummy-ness. Don't forget the pretzel bags, curling ribbon or twist ties. Get ready to make some CUTE gifts for any occasion.
With a little bit of thought and some colored candy coatings, dipped pretzels would be very CUTE bridal shower or baby shower party favors.
Place the decorated dipped pretzel rods in pretzel bags and attach a pretty gift tag that matches the shower colors ~ give out as party favors.
Use coordinating curling ribbon, raffia, or even tulle ribbon to match the baby or bridal shower colors too!
Why not prepare a variety of different flavors for a Super Bowl Gift Basket?
Image: Chocolate Covered Pretzel Rods by m01229 on Flickr, Commons 2.0
Chocolate Dipped Pretzels Are A Fast & Easy Treat
How about some white chocolate dipped pretzels with pink candy sprinkles for a baby shower, little girl's birthday party or even for the church women's club? Pretty!
Or how about white pretzel rods with black or silver or gold sprinkles for a wedding?
Use sprinkles in school colors for graduations, football games or dances.
Bridal showers, birthdays, proms, graduations, there really isn't anywhere you can't include these yummy treats.
Where could you NOT use these yummy treats?
Half the fun of chocolate dipped pretzel rods is making them too. The kids can help decorate them.
Have groups or girls or guys decorate some for their sports parties or dances.
Cellophane Pretzel Treat Bags
Put your dipped pretzel rod to a cellophane gift bag and tie with a twist tie or some raffia or curling ribbon. Set five or six of these in a cup for a beautiful gift made by you or place one on top of a present for a lovely, decorative AND edible touch.
More Ideas For Decorating Your Dipped Pretzels
Sprinkle with coconut
Sprinkle with heart sprinkles for a Valentine's Day treat
Cover with mini-M & M's
Roll in peanut or pecan pieces
Drizzle with the opposite color chocolate, or with colored white chocolate (pink, yellow, green, blue, etc)
Colored sugar
Crushed peppermints
Crushed Heath bars
Crushed Oreos
Wilton White Candy Melts, 12-Ounce
Wilton 12 oz. Red Candy Melts Candy, 6-Count
Melting Chocolate Wafers Baking Variety Pack
Wilton Nonpareils 6 Mix Sprinkle Assortment
Chocolate Dipped Pretzels by Gerrie
Buy Ready Made Chocolate Dipped Pretzel Rods
Now, if you're short on time I perfectly understand. To enjoy making these can take a bit of setting up, getting them done, letting them dry and cleaning up. If you're in a time crunch, you can always order some ready made. Cool, right?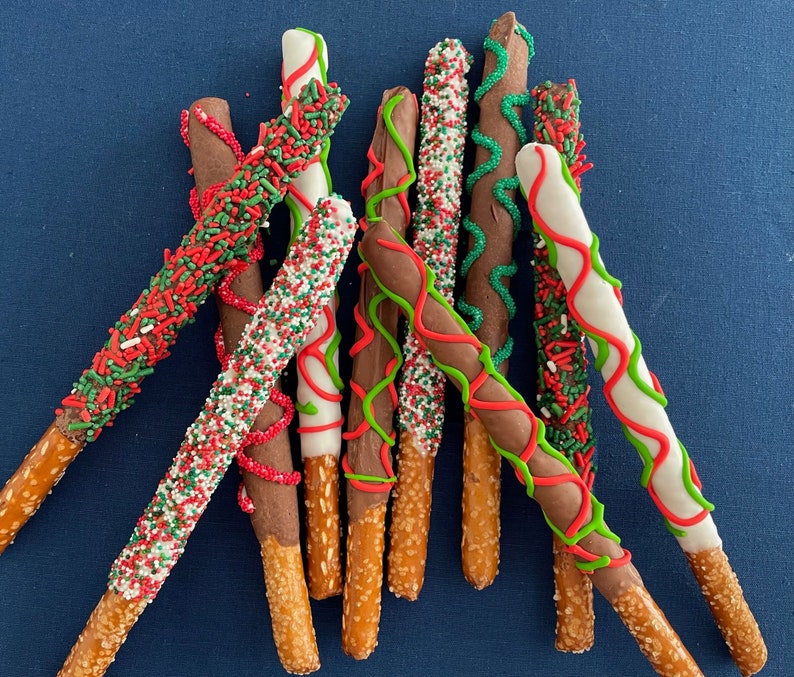 30 Chocolate Covered Christmas Pretzels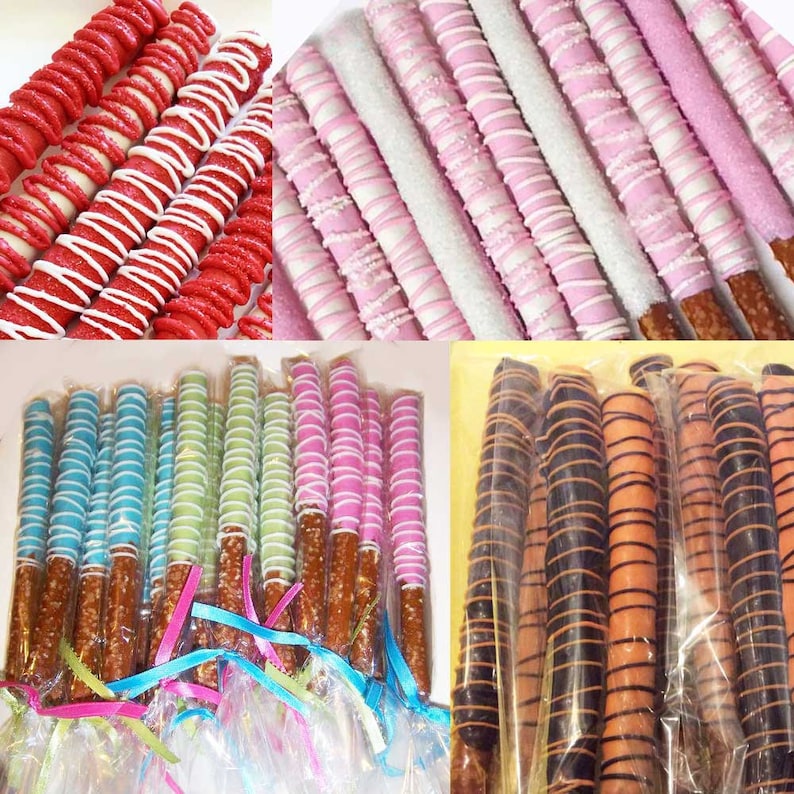 Chocolate Covered Pretzel Rods / Choose Your Color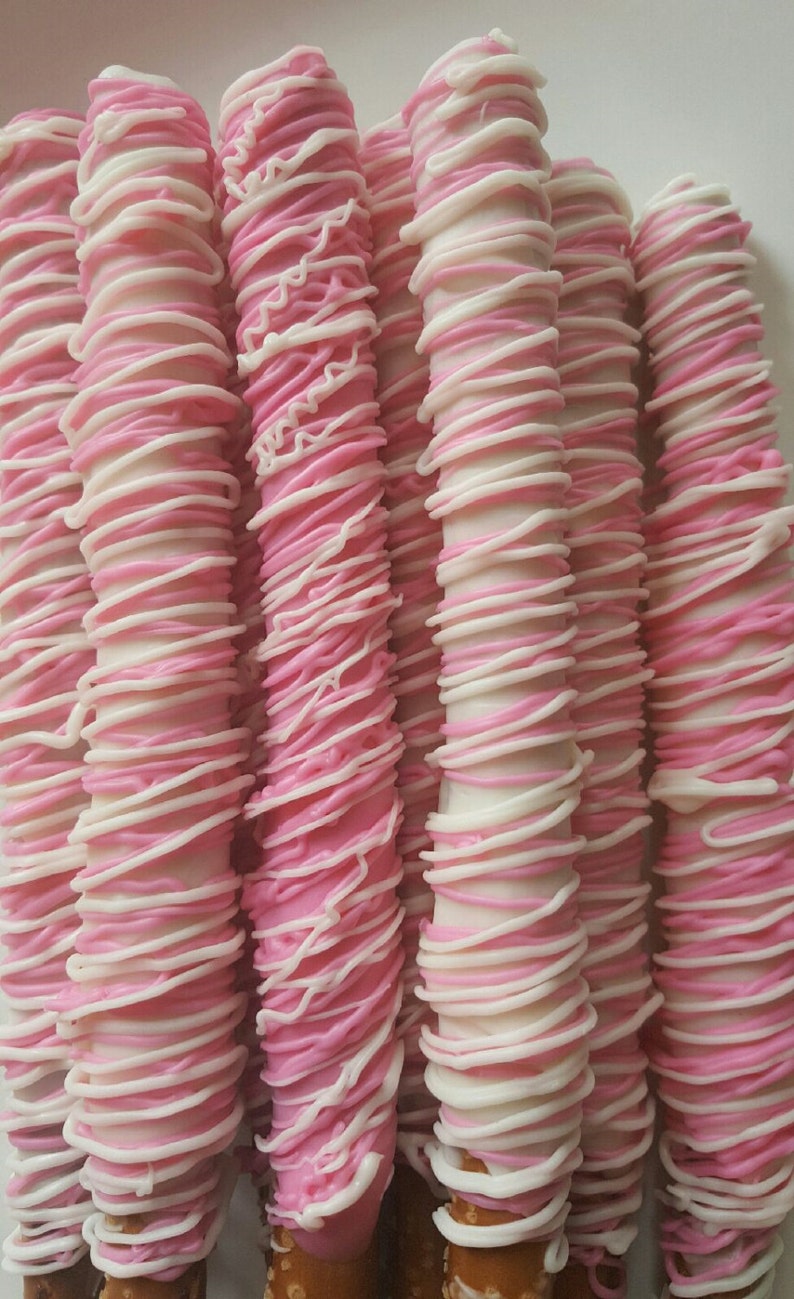 White Chocolate with Pink Drizzle Covered Pretzels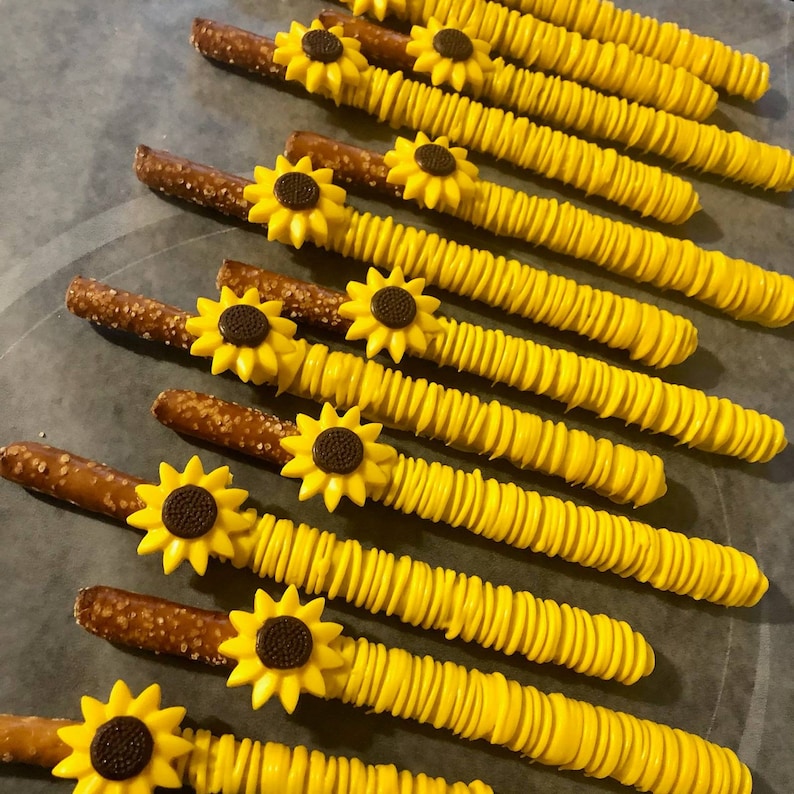 Sunflower Chocolate dipped pretzel rods

Get Chocolate Covered Pretzel Rods On eBay Too!
(Visited 58 times, 1 visits today)