This post contains affiliate links, which means I may make a commission at no extra cost to if you click through and buy something.
Dipped marshmallows are an ideal treat for party favors or even snacks at home.
Imagine pretty, decorated dipped marshmallows at a bridal shower, baby shower, wedding reception or even a Christmas party.
Imagine all the fun you'll have whipping up these fast and easy dipped marshmallow treats.
Kids will enjoy helping to make these chocolate dipped marshmallow pops, too. You supervise the hot candy dip.  They can decorate.  Instant fun & wonderful memories.
Now imagine all the compliments you'll get when folks see these lovely dipped marshmallows. Your guests will think you hired a professional candy maker!
Let me show you how to make these adorable dipped marshmallows and then we can let your creativity just take over!  It's a super easy recipe that's as much fun to make as it is to eat.  Yum!
How To Make Dipped Marshmallows
Is there a secret to making gorgeous dipped marshmallows for party favors and such? Not at all! These tasty little treats are so easy to make you'll run out of marshmallows before you run out of ideas!
If you need them for party favors ~ match the colors or theme of the party. You can change the color of the marshmallows, the color of the candy melts, and you can use sprinkles, jimmies, coconut, nuts, crushed peppermints, etc to change the color & texture. Not only that, but if you put them in cellophane treat bags, try silver or white printed bags with silver or white curling ribbons for a wedding theme. And so on…Isn't that fun?
In the picture at the top of the page, you see a marshmallow dipped in dark chocolate, right? Yum! Well, you could use milk chocolate, white chocolate–or just about any color actually–for special occasions, holidays or events.
Use colored candy melts in your choice of colors.  Pink or blue for baby showers. Red, white and blue for Independence Day. Or how about white chocolate with colored coconut?
Another idea is to only dip the top half of the marshmallows in the candy.  Wait…I ran out of marshmallows before I ran out of ideas!
Chocolate Dipped Marshmallow Pops
These are some gorgeous chocolate dipped marshmallow pops. See how bright and colorful they are? Beautiful and so easy!
Use colorful lollipop sticks or pretty drinking straws. Leave them long if you're doing 2 or more marshmallows at a time or shorter for just one.
200 Treat Bags 5×7 with 4″ Twist Ties Assorted Colors
500 Treat Bags 2.5 x 5″ with Mix Colors Twist Ties (3″)
Colored Lollipop Sticks 100 count 6 inch (Blue, White, Purple, Yellow, Rose-red)
100 Gold & Pink Stripe and Chevron Paper Straws 7.75″ Gold, Pink, White
Wilton Sprinkle on the Fun Rainbow Sprinkles Set, 6-Piece
Wilton Baker & Decorator Candy Melt Bundle, Light Cocoa & White
Roll in or Sprinkle Dipped Marshmallows with nut pieces, candy sprinkles, coconut, or even colorful crushed breakfast cereals like Fruit Loops or Cocoa Krispies.  How about crushed graham crackers or oreos?
Make Chocolate Covered Marshmallow Pops With Your Kids
Doesn't this look like fun?  Make these yummy treats on snow days.  Make them as party favors for birthday parties.  Enjoy the time spent with your kids.
Kraft Jet-Puffed Pumpkin Spice Marshmallows, 8 Ounces
Kraft, Jet-Puffed, Strawberry Marshmallows, 8 oz Bag
Blue & White Marshmallow Twist 1 Pound Bag
Pink & White Marshmallow Twist 1 Pound Bag
Chocolate Marshmallow Snacks
Here's one more look at how easy it is to make these yummy snacks.  You can make these anytime, too.  Family movie night?  Game Night?  Reader's Club meeting?  Enjoy!
If you're making dipped marshmallows for a baby or bridal shower or for a wedding ~ or any party where you'll need LOTS of them, you'll save a bundle by buying your
cellophane gift bags in quantity
.
Pressed For Time?
I know how that goes. You want some beautiful and delicious chocolate dipped marshmallow pops for your special party. But you don't have time to make them yourself. Problem solved by the wonderful artists on Etsy. There are so many more to choose from too. Click here to take a look.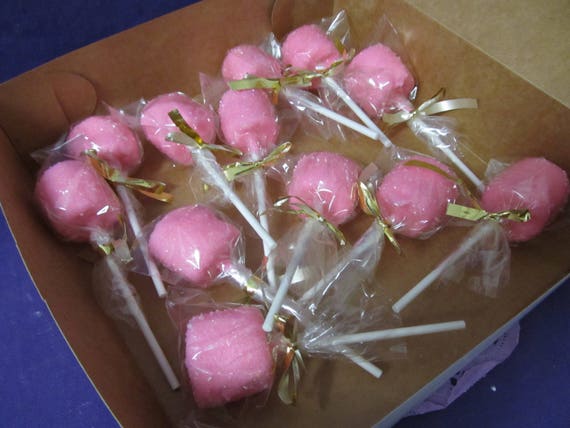 12 Chocolate Dipped Marshmallows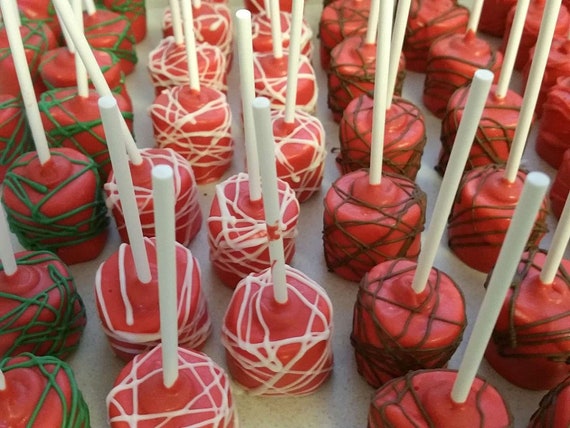 Chocolate dipped marshmallows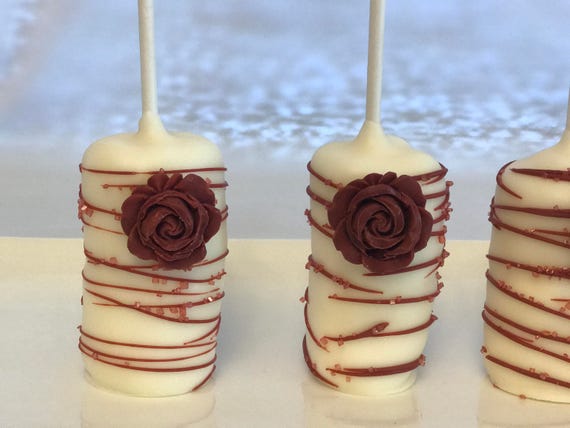 Maroon Drizzled Chocolate Covered Marshmallows with Edible Rose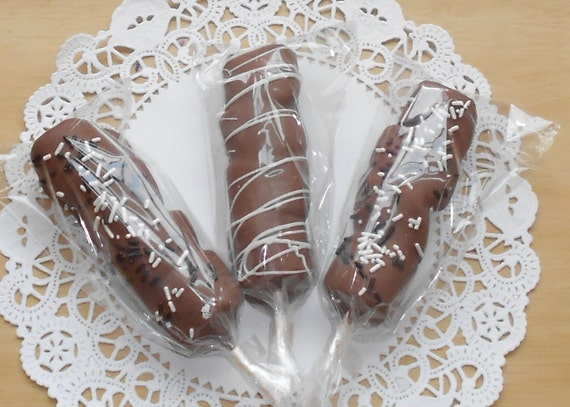 Chocolate covered marshmallows on a stick

(Visited 121 times, 1 visits today)