The Snowman Soup Recipe Poem has been around the internet for ages. The charming poem endures because it's as sweet as the cup of hot chocolate that comes with it.
I think it's been around this long because people enjoy giving (and getting) small gifts. Even more than that, the poem in all its variations are as cute as our snowman buddy. He's not your ordinary snowman, you know.
Kids and adult alike get a kick out of the cute poem and of course LOVE the snowman soup hot chocolate!
School Christmas parties, office Christmas parties and church Christmas parties are all perfect for the snowman soup hot chocolate favors. Fun will ensure where ever our little snowy friend shows up.
So if you need a little help with Christmas party favor ideas and stocking stuffer ideas, here's your little man! Snowman Soup that is!
DIY Snowman Soup
There's a few different ways to make the Snowman Soup recipe poem, but they're all definitely yummy.
The fastest & easiest no-fuss way is to take some mini-marshmallows and put them in small ziplock baggies with a couple of Hershey's Kisses, a packet of hot chocolate and a candy cane.
Print or write out the poem below on some green or red cardstock and cut it to size. Punch a hole in it to attach to the back with some curling ribbon. Ta-dah! You have Snowman Soup!!
But where's the fun in that? You know we have to turn the cuteness factor waaaay up, right?
Let's wind up our creativity and check out some more snowman soup ideas. The good thing is that we can drink our experiments!
Snowman Soup Recipe Poem
When it's so cold that
you holler and whoop,
It's time to bring out
the Snowman Soup!

Pour the packet in a mug.
Add the snowballs too.
And throw in the kisses
from the snowman to you.

Now add some hot water
and use the cane to stir it.
Sip slowly and soon you'll
feel the warm winter spirit!
Snowman Soup Recipe Printable
Want to make your own snowman soup treat bags? It couldn't be easier with a printable bag topper.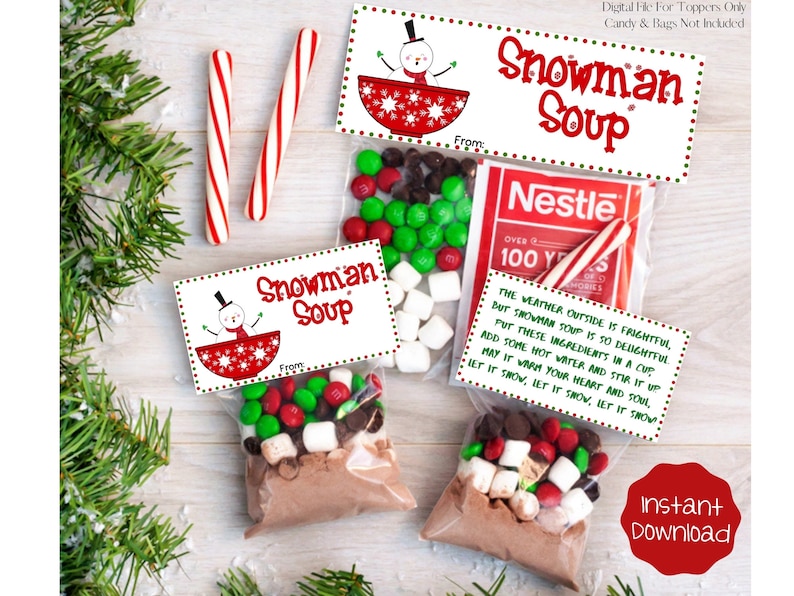 Snowman Soup Treat Bag Topper Printable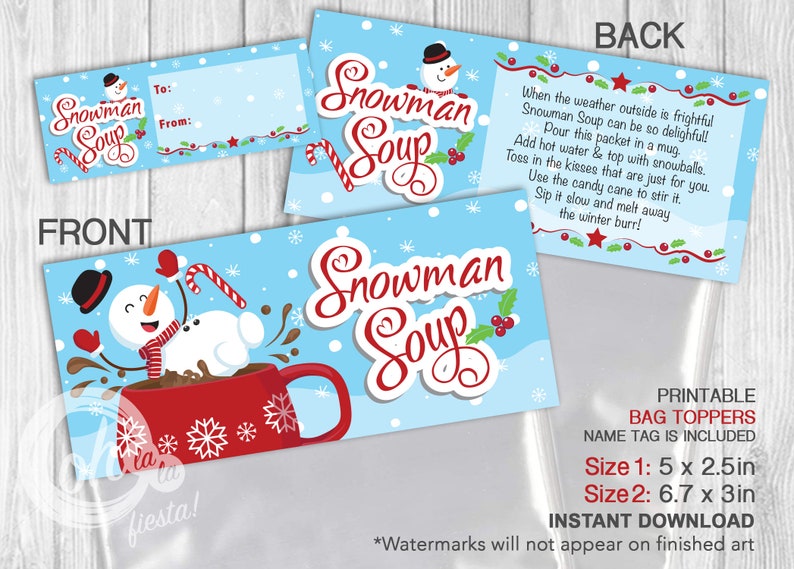 Snowman Soup bag printable topper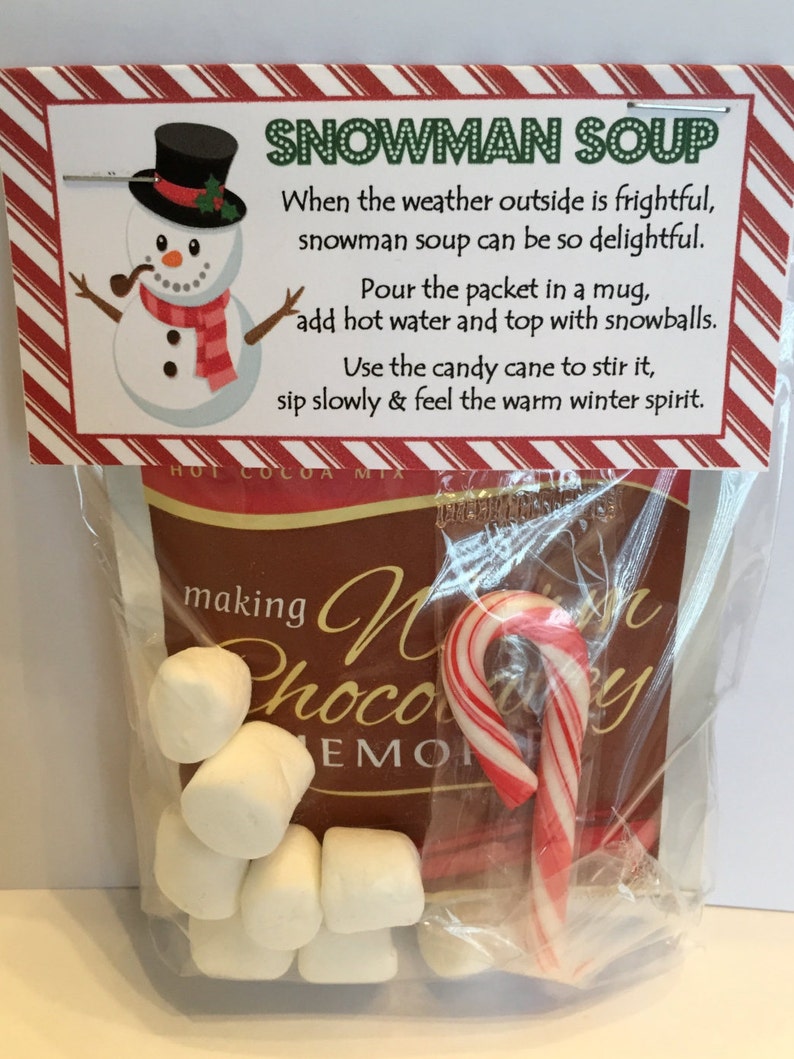 Snowman Soup Treat Bag Topper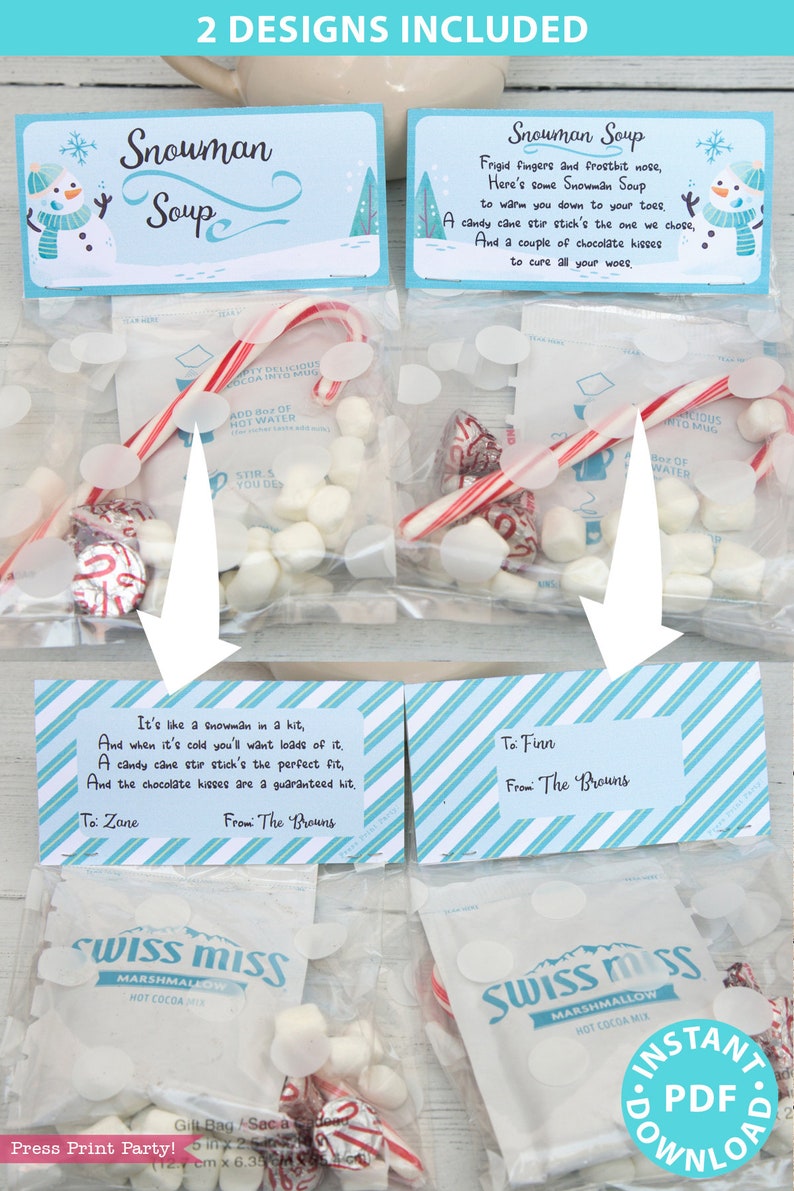 Snowman Soup Printable Treat Bag Topper

Snowman Soup Tag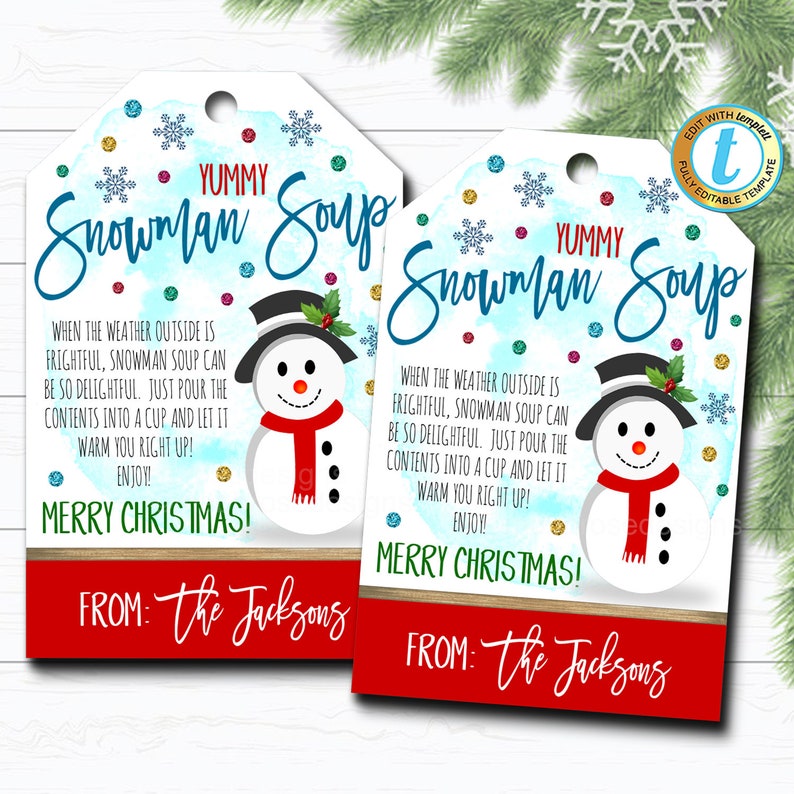 Snowman Soup Hot Cocoa Gift Tags

Snowman Soup Hot Chocolate
Pick up some good hot chocolate for your treat bags.
Ghirardelli Chocolate Hot Cocoa Mix, Pack of 25
Land O' Lakes Cocoa Classics Variety Pack (34 count)
Land O Lakes Classics Hot Cocoa Mix
Double Donut Hot Chocolate Mix, 32 Count
Snowman Soup Kit
Now believe it or not, there are Snowman Soup kits. Some you have to assemble, but they have everything in the kit. Some are already made. Talk about time savers!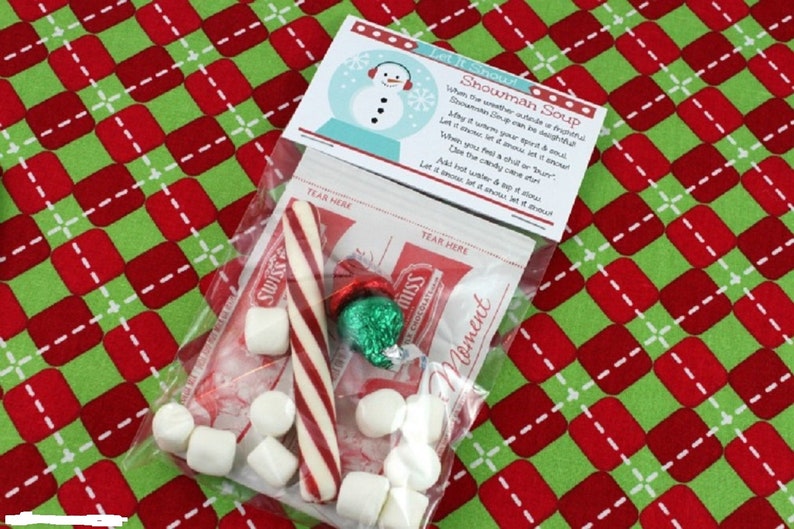 Snowman Soup Packet-Gift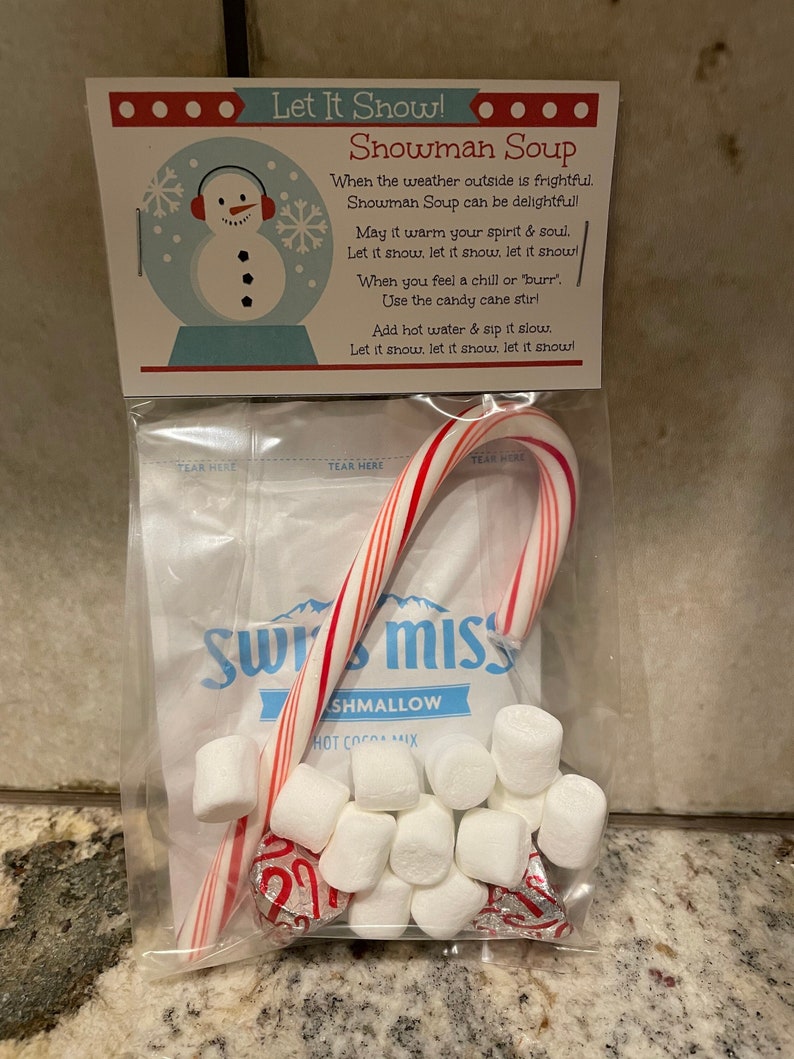 Hot cocoa kit- Snowman soup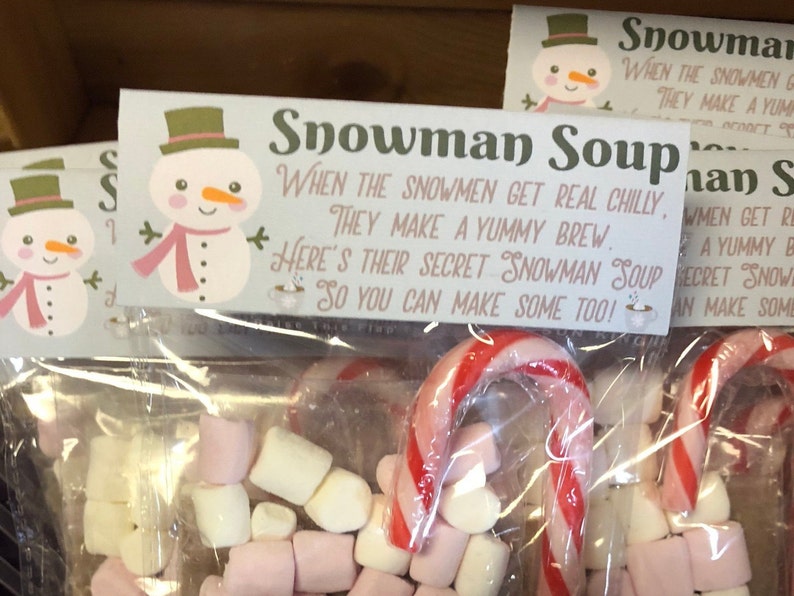 Snowman Soup x 10 bags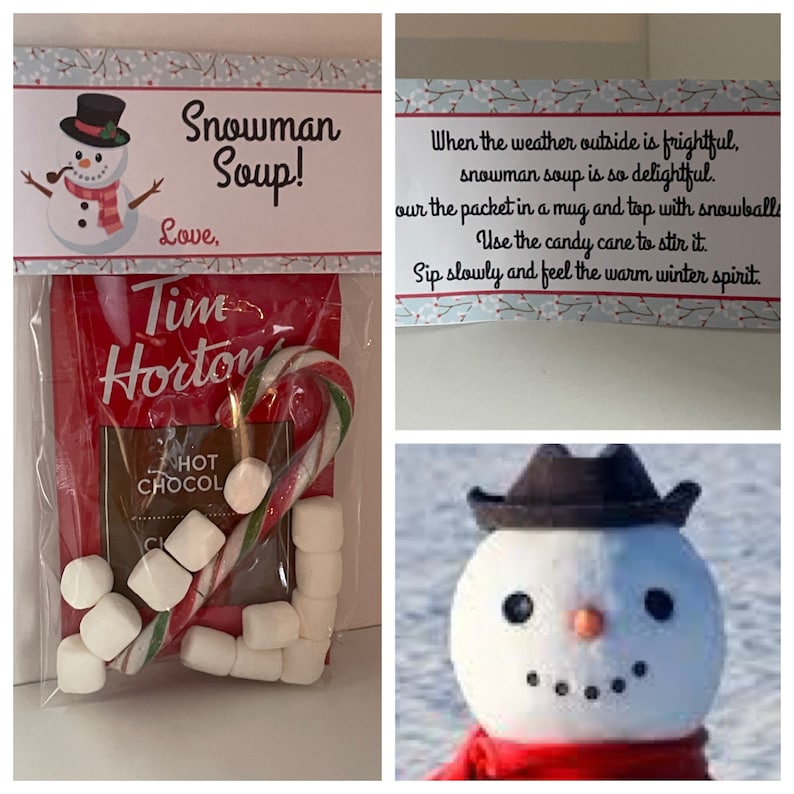 Snowman Soup

There's Snowman Soup On eBay!
Who would have believed you could find snowman soup on eBay? Well, now you know. Check out the variety of snowman soup related goodies are there.
(Visited 50 times, 1 visits today)