Best Candied Pecan Recipes – Assemble! This year try something new with one of these Candied Pecan Recipes. Your family and friends will love them.
This is snacking simple and fun. Make plenty and keep your candy dishes filled because they won't last long. The taste is great and the recipe is so easy. In fact, I've collected what I think are the best candied pecan recipes I could find. See if you agree.
Pecans are delicious in more than just pecan pies and tarts. If you're looking for a quick and easy recipe for pecans, you'll want to try these Candied Pecans.
Not only are they yummy, but they are fantastic holiday gift ideas for gifts in a jar or give them in cellophane treat bags. Candied pecans are the perfect snack to serve during the holidays ~ or just anytime.
Try whipping up a batch of these Candied Pecans and putting them in cellophane gift bags or gift boxes. Instant gifts for the office or stocking stuffers for anyone!
Featured Images:  Candied Pecans by Julie Magro on Flickr, Commons 2.0; huckleberry bar candied pecans by Krista on Flickr, Commons 2.0; Candied Pecans by Kurman Communications on Flickr, Commons 2.0
My mother-in-law, who we lost several years ago now, first introduced me to these delectable little treats. This and her creamy, delicious Glorified Rice recipe are a couple of my favorite treats to make. I think of her whenever I make them. Why not start a family tradition and have the kids help you make some candied pecans to give as gifts this year?
Put some in a gaily decorated mason jar for teacher or co-worker gifts. Fill some little cellophane treat bags for school and church. But most importantly, enjoy some with your family this holiday season.
One Of The Best Candied Pecans Recipes
This snack is tasty and a fun way to satisfy that sweet and salty craving.  This is a quick and easy recipe for Candied pecans. It's the base of how I make mine. From here, I add different flavorings sometimes. Try cinnamon, garlic or whatever tickles your taste buds.
Ingredients
1 pound pecan halves
1/2 cup butter
1 cup white sugar
2 stiffly beaten egg whites
1 pinch salt
Instructions
Preheat oven to 275 degrees F (135 degrees C).
Toast pecans for 10 to 15 minutes or until lightly toasted. Set aside to cool.
Fold sugar, salt and pecans into egg whites.
Increase oven temperature to 325 degrees F (165 degrees C).
Melt butter or margarine on a sheet pan.
Spread the nut mixture over pan and bake for 30 minutes, stirring every 10 minutes.
Remove from oven and allow to cool.
You'll Need These To Bag Up Your Goodies!
Candied Pecans Video Recipe
Make your family and friends happy with some Candied Pecans for snacks, gifts or even stocking stuffers. Candied Pecans are a quick and easy snack to have around the house for the holidays. Want an instant party? Just make up this fast and easy pecan recipe and be sure to make plenty of them. They will go fast because they taste so great!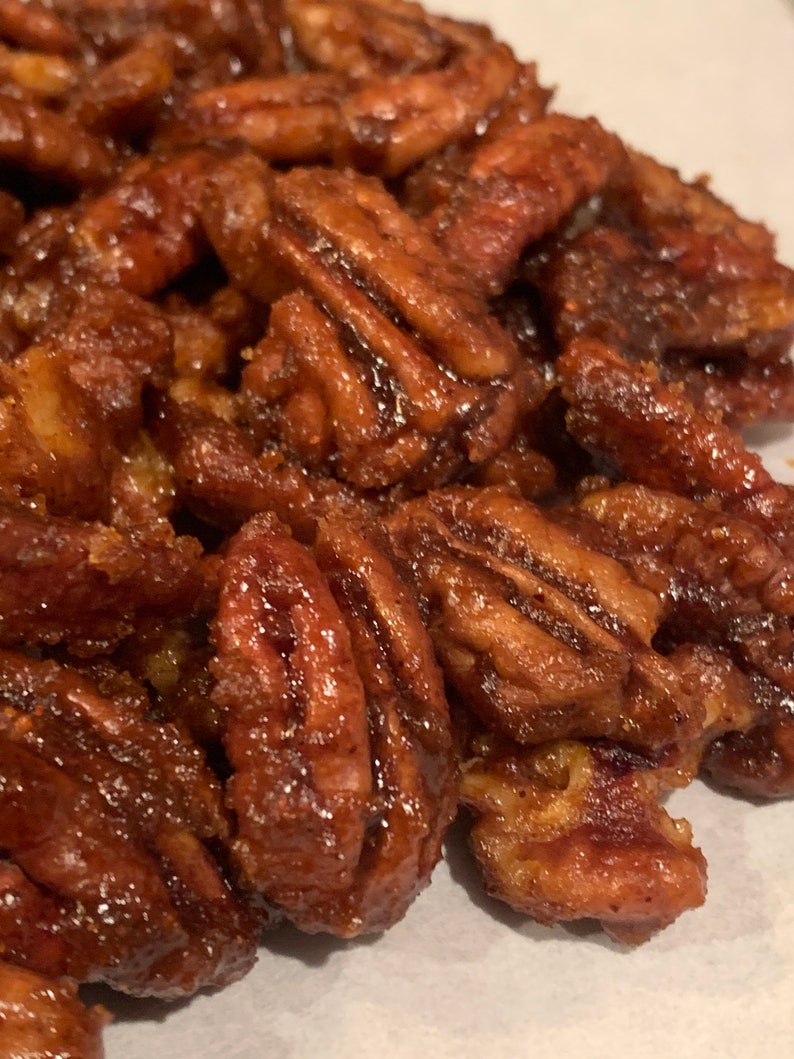 Candied Bourbon Heat Pecans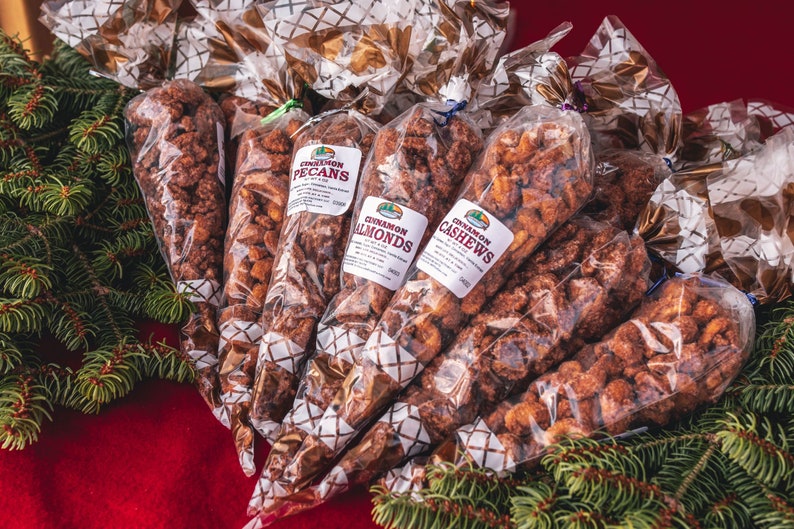 Bavarian Cinnamon Candied Nuts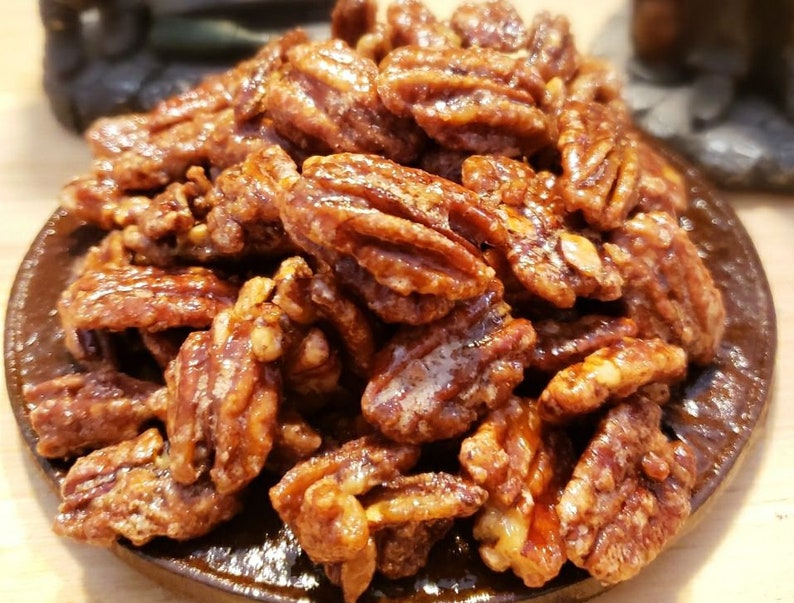 Maple Bacon Pecan–Texas Pecans w/ Organic Maple Syrup & Bacon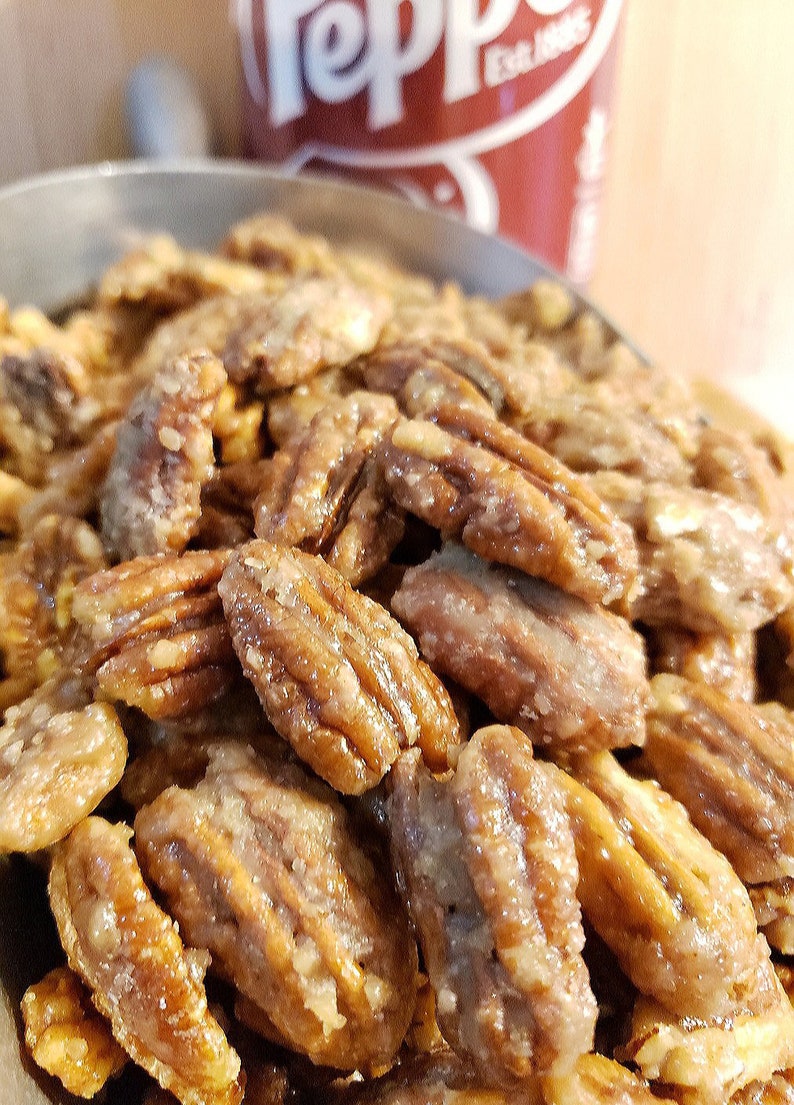 Praline Pecans Roasted in Dr. Pepper– Candied Texas Pecans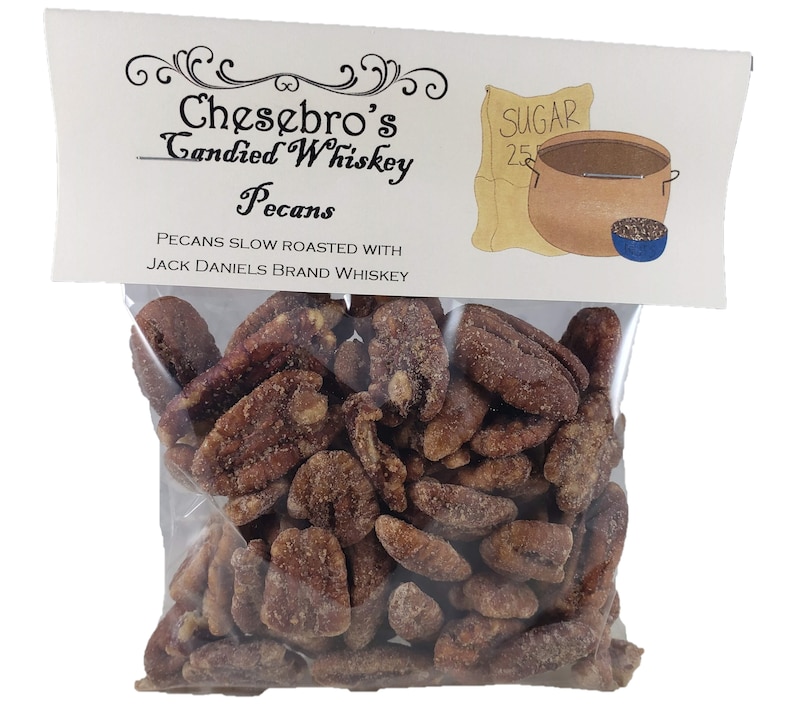 Candied Whiskey Pecans, 4.0 oz.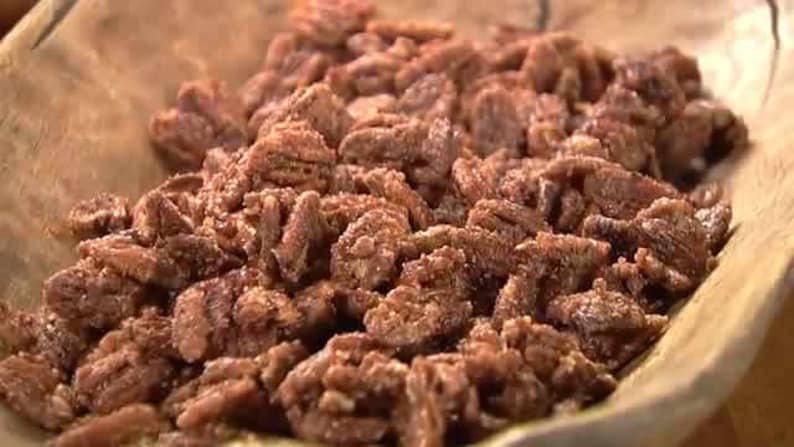 Cinnamon Roasted Pecans

Have Fun With These Best Candied Pecan Recipes!
Once you've made this recipe a couple times, you'll be familiar with how to make it. So then, try something different for fun!
Dial the sugar down and try adding chili powder for a kick; use popcorn seasonings for flavor; cajun seasonings for spicy goodness; or try some pumpkin pie spice or cocoa powder for out of this world flavor!  I bet you can think of a few more flavoring ideas, right?
Glazed Party Pecans
I love Betty's channel and I love this recipe. It's "backwards" from the way I make mine but the result is REALLY good! You've got to try this one too!
Carmelized Pecans Recipe
This is another similar candied pecans recipe to try this holiday season. I just wanted you to see all the delicious choices you have for making these pecan treats. Yummy!
Pick Up Your Shelled Pecans On eBay
(Visited 40 times, 1 visits today)